Details of The Virgin Mary Sculpture:
The blessed Virgin Mary statue made of purely natural marble is of high quality. The Virgin Mary stands gracefully on a circular marble pier. Her eyes were closed, her hands were folded, and she was praying devoutly. The characteristics and temperament of the Virgin are also well represented. For example, the snake under her feet, her calm look, her graceful figure, and so on.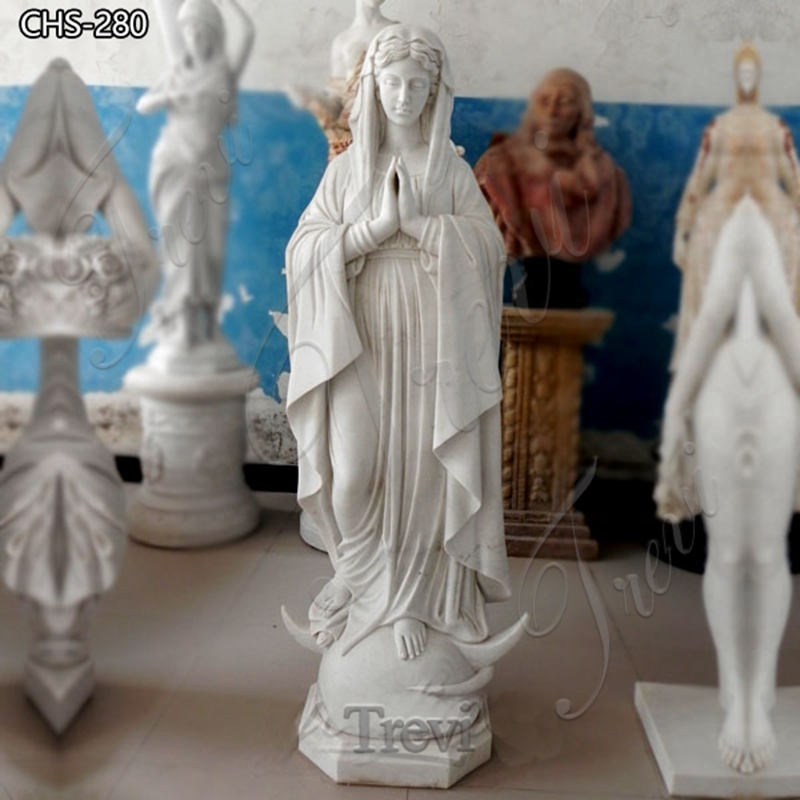 A Variety of Virgin Mary Sculpture Styles:
The Virgin Mary has always been a beloved object. We have also carved a lot of statues of the Virgin in different shapes to meet the diverse needs of customers. These marble sculptures would have some differences in size and would be more diverse in color. In addition to pure white, we also designed beige and so on. Besides, we have some statues of the Virgin in painted form. If you have customers who like painted sculptures, you may not miss it.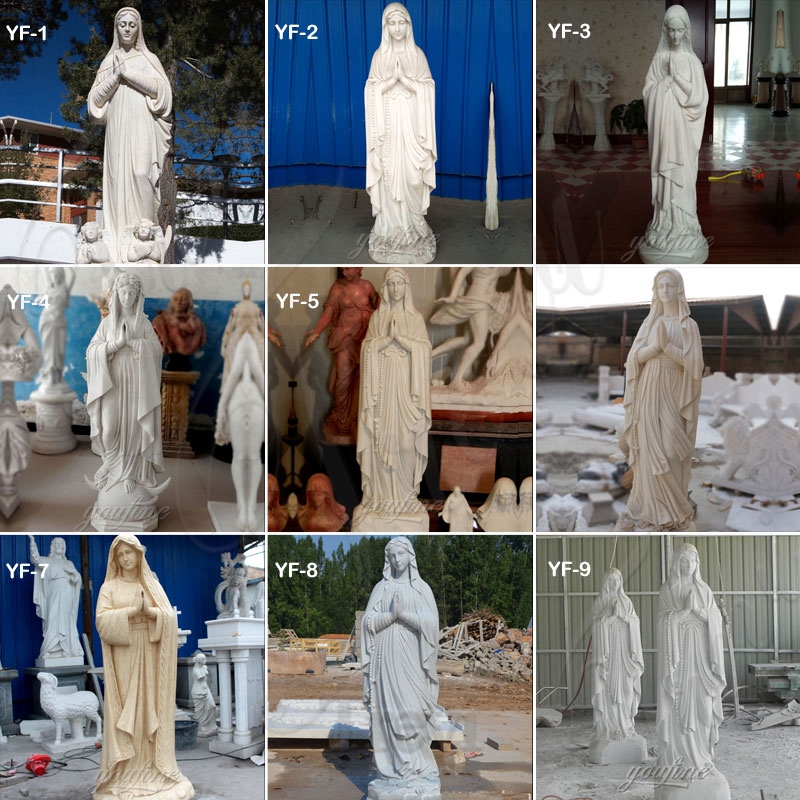 Some Customers' Feedback:
Our marble religious sculptures have always been popular with friends from various countries. There are many customers who come here to want our religious sculptures. We know that we couldn't live up to the trust of our customers, so we pay more attention to the quality of the sculpture and customer service. After customers receive our marble Catholic sculptures, they would give us feedback through pictures or videos to express their joy and satisfaction with our sculptures.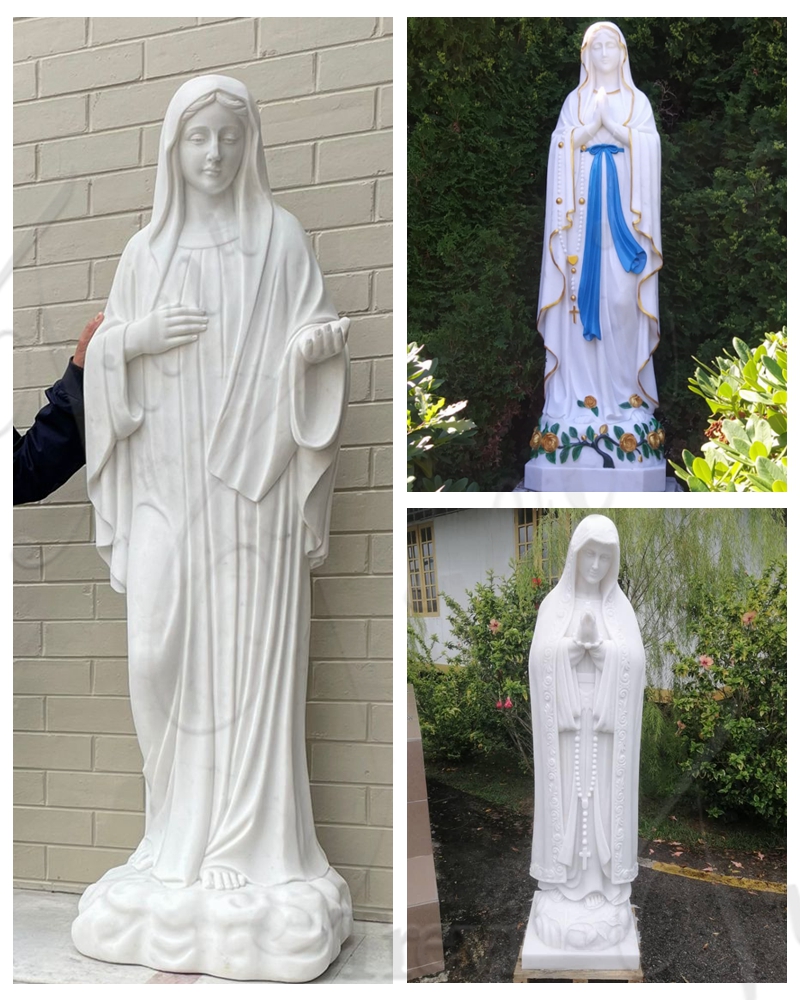 About Our Factory:
In the marble sculpture industry for nearly 40 years, we have cooperated with countless clients and produced a lot of religious sculptures. In this continuous production and customer communication, we have also accumulated a lot of experience. The various departments of the factory and the team are also growing and becoming more specialized.
A strong QC team would carefully follow up the entire process of the project to ensure that the product quality and customer feedback during the production process could be guaranteed on time and successfully. Also, professional freight and forwarding personnel would also ensure the safety of the sculpture during transportation, so that every customer who buys our Virgin Mary sculpture could receive perfect goods.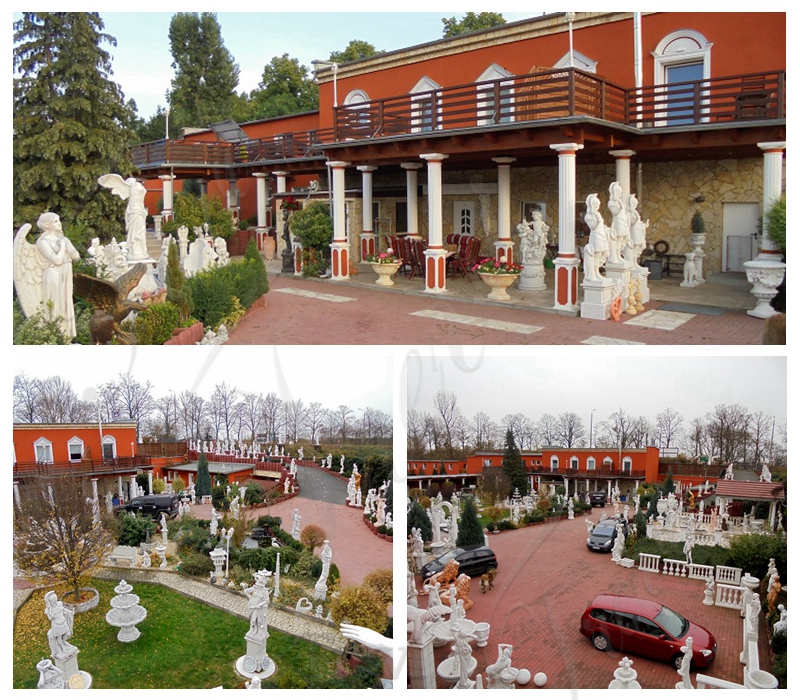 If you want to buy our life-size Virgin Mary sculpture, you could leave us a message through the contact information below. We would reply to you as soon as possible after receiving the message.