Details of The Sculpture Of Maria:
This is a finely carved marble Virgin Mary sculpture. Its color is white, which further highlights the sacred temperament of the Virgin. In this sculpture, the Virgin has a benevolent face. She places her hands in front of her body, put them on the placket of her chest, and stands gracefully. At her feet are two baby angels and the heads of two cherubs. These elements come together to form a harmonious picture.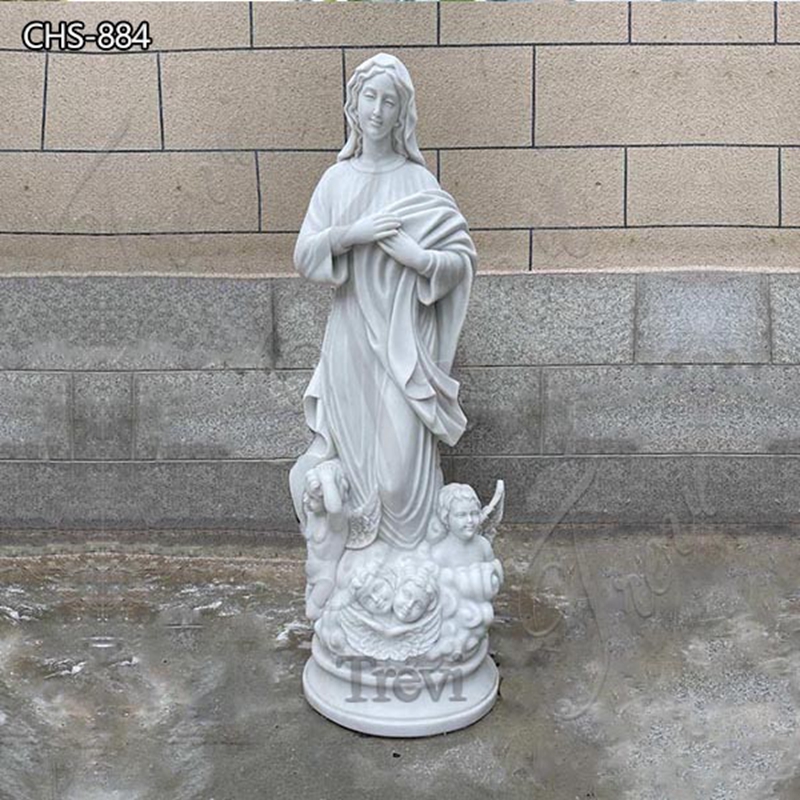 In the details, the Virgin Mary's loving and gentle temperament is shown on her face. Our artist takes great care when sculpting her face. They use a finer carving skills to accentuate femininity. When expressing the lovely charm of the little angels, the artist carved their faces into round shapes, adding a sense of intimacy. So, all kinds of character details are appropriate. In addition, apart from these necessary carving details, there is not a trace of superfluous carving lines. It could be said that this is a very perfect marble sculpture.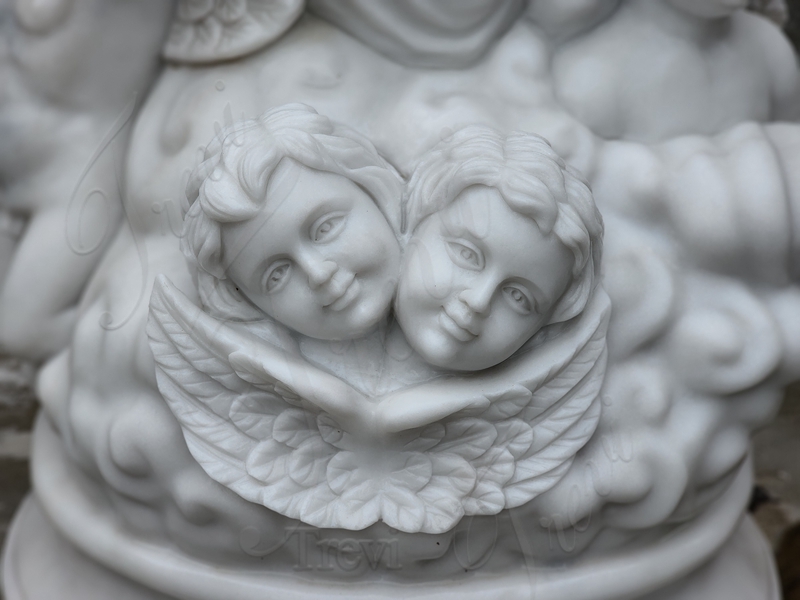 Pure Hand Carving Could Show More Details:
All our marble religious sculptures are purely hand-carved. Human carving could go where machines could not. When carving detailed designs, people's attention is more focused. So more details could be observed, and the carved sculptures would be more vivid. For example, the folds of the clothes at  Mary's elbow are layer by layer, which is clear. And like the wings of a little angel, the feathers are very beautiful, and the details displayed by the carvings of different depths and thicknesses are also different.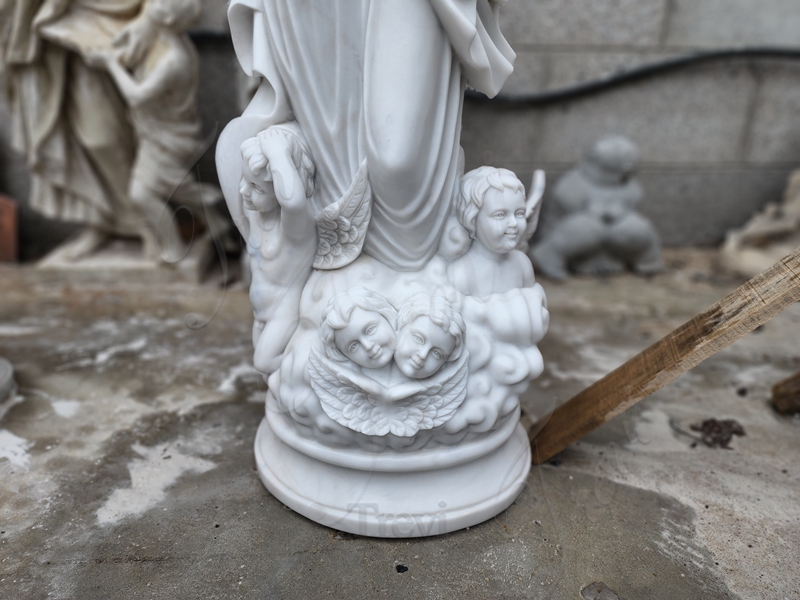 Various Virgin Mary Statues to Choose:
Our Lady has always been a model in the hearts of believers and is deeply respected by them. When we sculpted the marble Virgin Mary statue, we do our best to show her charm. Therefore, our marble statue of Mary has a high degree of reduction. Besides this Mary sculpture, we also produce other Mary statues such as Our Lady of Fatima, Our Lady of Lourdes, and more. These Virgin statues are of high quality and good-looking. If you bought our marble Madonna sculpture, you would be satisfied with it.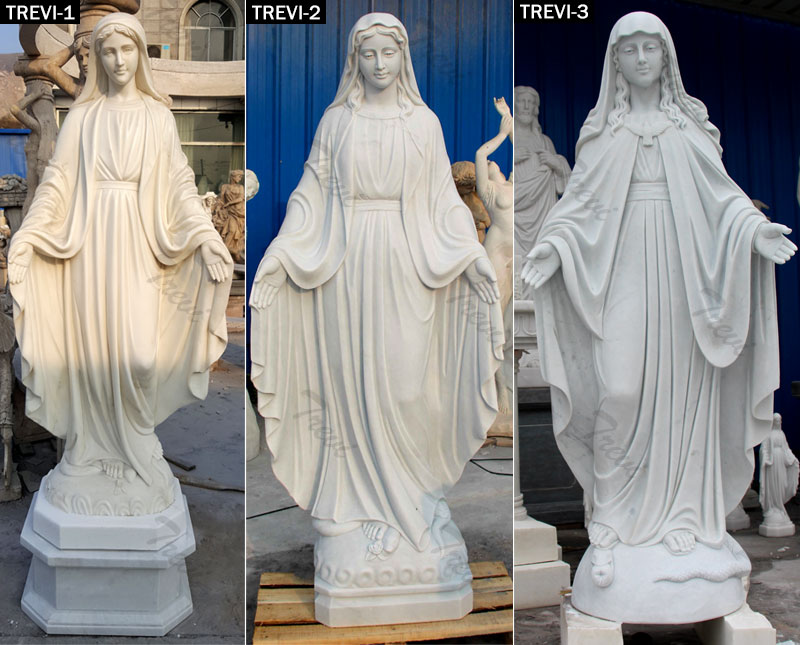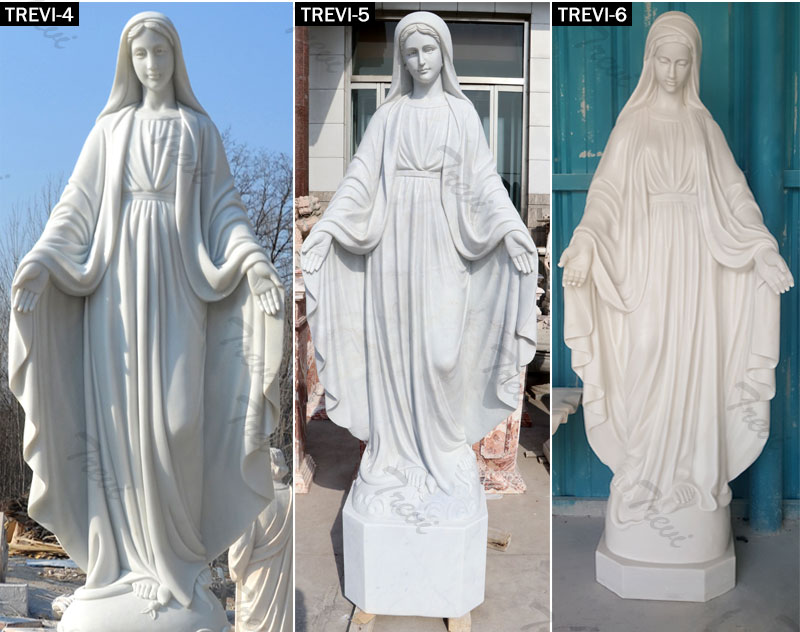 Our marble Virgin Mary statues are factory direct and have a good price. So, if you are interested, please feel free to contact us. We would reply to you in time and give you satisfactory service.