Virgin Mary Marble Statue Details:
Virgin Mary opened her hands and brought the gospel to the world. The devilish snakehead was stepped under the feet of the Virgin. The Virgin Mary marble statue has a gentle expression and a smile on her mouth. Indeed, the Virgin's robe stretches to the bottom of her feet, she is so dignified. The glorious image of the Virgin comes to mind in our minds.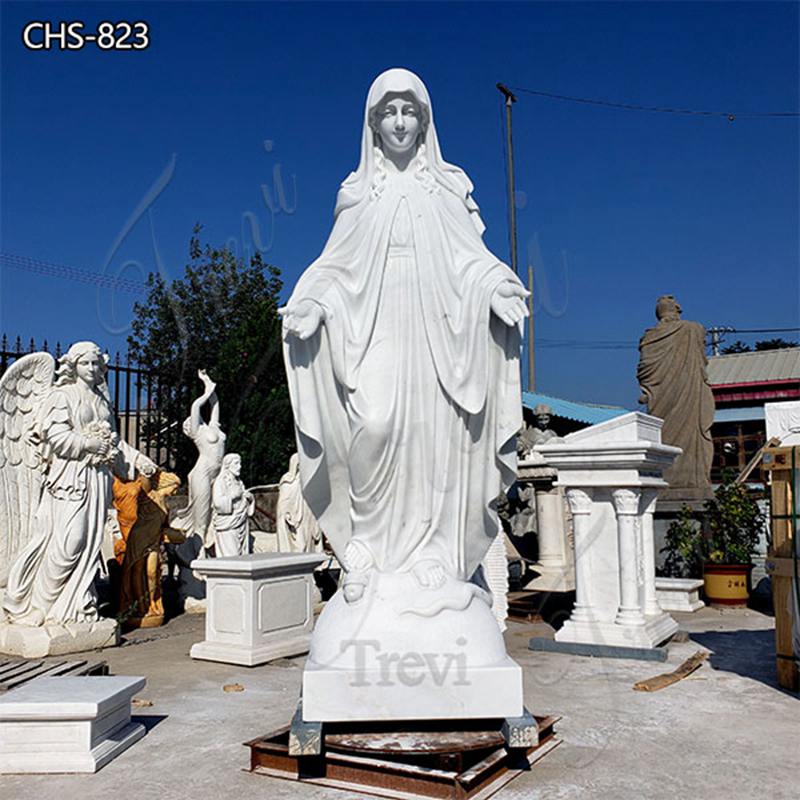 Beautifully Carved:
Virgin Mary marble statue is a masterpiece of Trevi factory artists. Artists are proficient in every step of carving. Actually, Trevi factory marble adopts a deep carving technique. The big body of the Virgin is carved by a dedicated artist, and the fine carving of our Virgin is carved by more proficient artists.

39 Years Experience:
Trevi factory has been established for 39 years, and we have many imitators and followers. But we have never been surpassed. The quality of the Trevi factory's Virgin Mary marble statue is always the best. Undoubtedly, we are very willing to improve the level of the entire marble sculpture.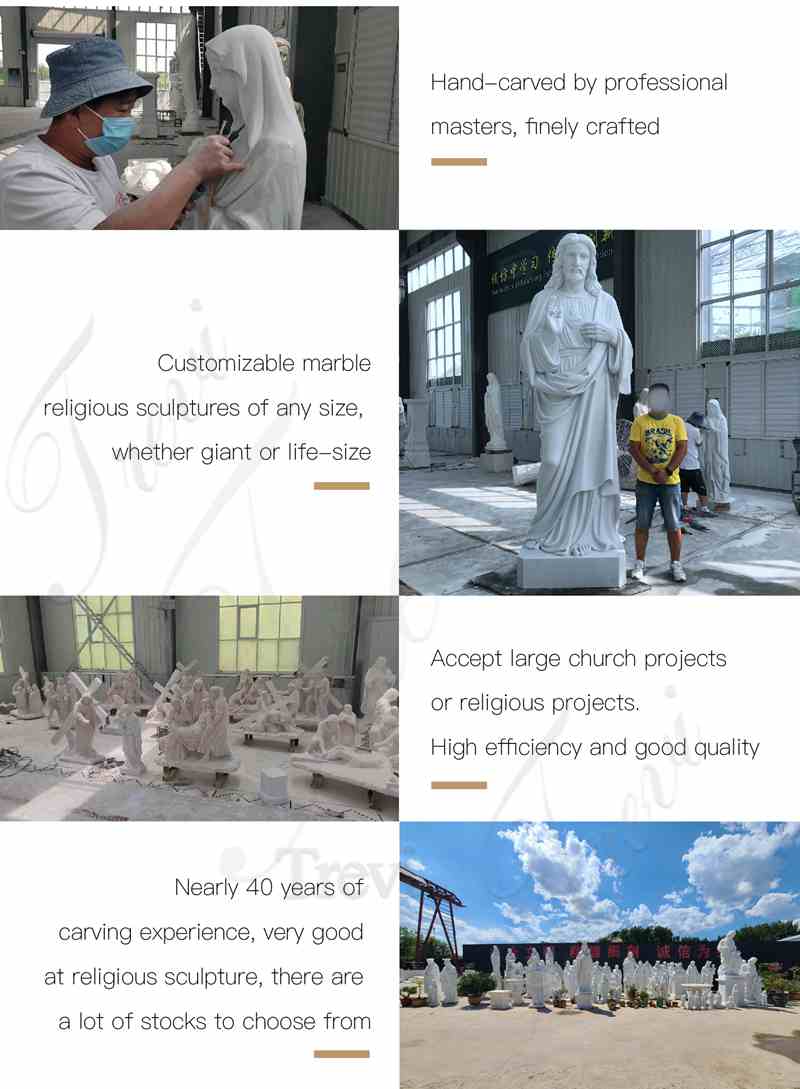 Quality Natural Marble Material:
Trevi factory is located in the marble sculpture town of world civilization. There is a 3000-year-old sculpture culture here. Trevi factory marble has a variety of marble raw materials. China's local natural marble has always been our stable source. For example, the Trevi factory has Hunan white, Guangxi white, and Sichuan white. In addition, we also have higher quality imported marble Carrara marble raw materials.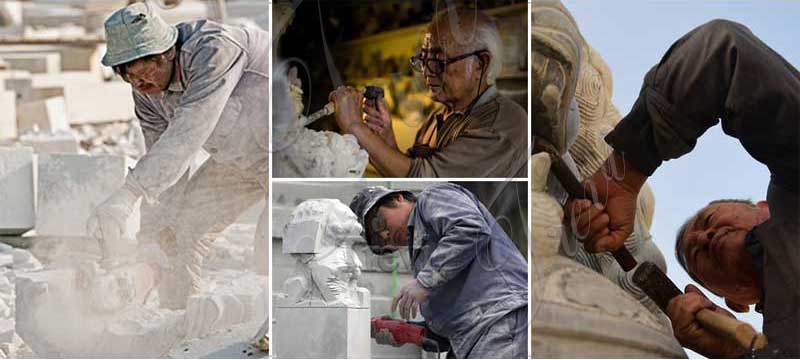 Excellent Designer:
As a leader in the sculpture industry, our marble sculptures are sold all over the world. We have been unanimously recognized by our partners and customers. Speaking of which, our American customer has customized a Virgin Mary marble statue for his dear wife, and our designer has specially designed a marble stool for his wife, which is convenient for his wife to pray.
The designers of the Trevi factory advocate Catholic culture very much, and they have been deeply influenced by Catholicism since they were young. Therefore, they have been engaged in the design of Catholic sculptures all his life, and the sculptures designed have been recognized and praised by customers.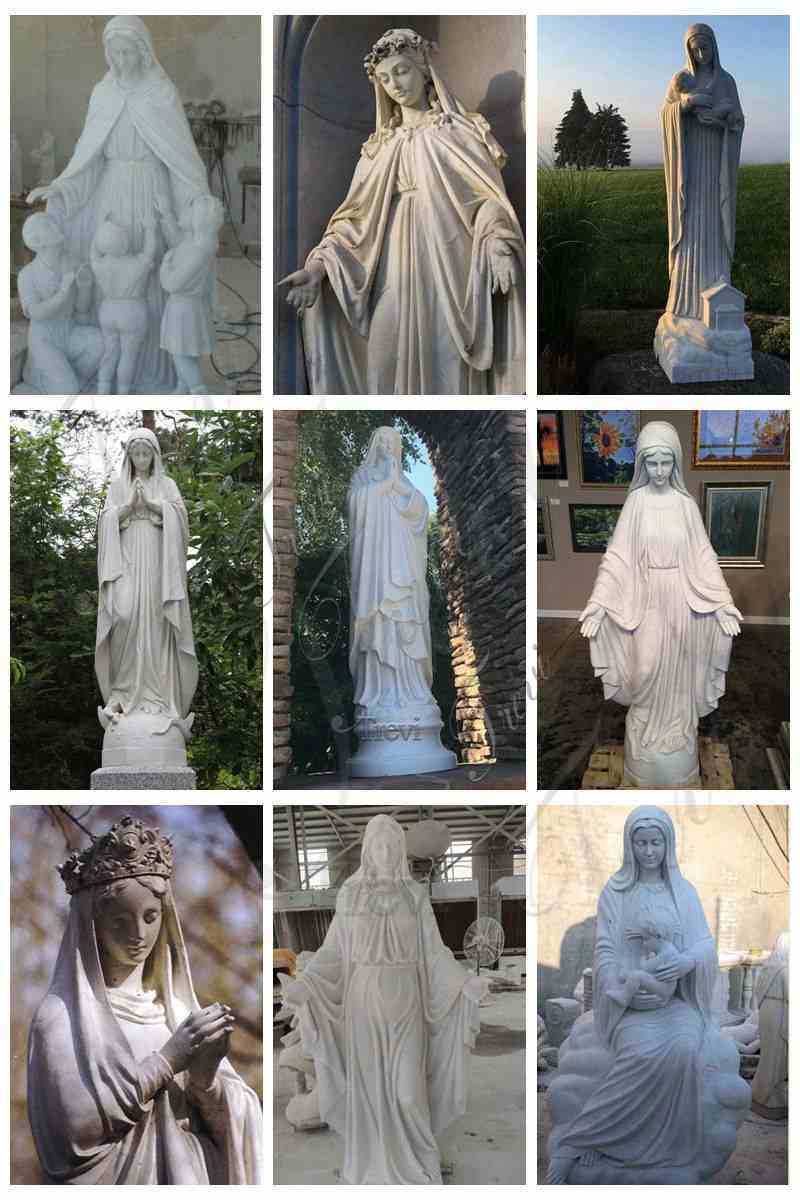 What type of Catholic marble sculpture do you want. You could contact us at any time and we would learn more about your needs in detail. Trevi factory would provide you with the most satisfactory sculptures.